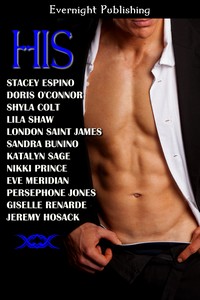 HIS 

Authors: Stacey Espino, Doris O'Connor, Shyla Colt, Lila Shaw, London Saint James, Sandra Bunino, Katalyn Sage, Nikki Prince, Eve Meridian, Persephone Jones, Jeremy Hosack
Publisher: Evernight Publishing
Release Date: August 15th 2013
Heat: 3
Strength. Power. Experience.

No obstacle is too great when an alpha male decides what he wants, and these dominating men are so sexy and irresistible, no woman would dare think of anything but submission. Billionaires, Doms, and mobsters alike aggressively go after the women they want, and they will stop at nothing to fully possess them and make them beg for more.

Come and find out how good it feels to be HIS.

Be Warned: anal sex, menage sex, BDSM, sex toys, spankings
Story: Owning Desire
When Desiree Lawson makes a mistake that could potentially lose a large account, her boss Sterling McKenna jumps at the chance to make his move. He's waited a long time to have his 'Desire' and he's not above a little coercion. So he gives her two options, be demoted, or become his submissive. If she says yes he won't be satisfied until he's worshipped every curve and shown her the true beauty she possess inside and out.

Stunned by his offer Desiree can't believe her luck. She's wanted him for years, but never thought BBW's were his style. From the moment the offer left his luscious lips her mind was made up.

Will she wind up submitting to the boss and both of them ending up getting more than they bargained for?

Find It On:
---
Excerpt: 
"You will address me as Sir. You'll perform all the tasks that I give you. Every task. Is that understood, Desiree?"
"Yes, Sir," she said softly. Lord, he was saying this all in front of Ryder.
His next words proved that he'd seen her look at Ryder then back at him quickly.
"Ryder knows all about what's happened between us, Desiree. In fact, he's going to stay here and watch and do a bit of touching of his own."
"Watch and touch?" she squeaked out. There was heat building in her cheeks, she just knew it.
"Yes, watch everything we do. As well as touch you if I ask him to. Meaning he will be here while I have sex with you, and he will be a participant in some form or the other. This is your last chance to say yes or no to what's going to happen. If you're going to leave, then go. If not, I want you to pull up your skirt slowly and show us that you've been a good girl and obeyed my order."
© Nikki Prince, Author