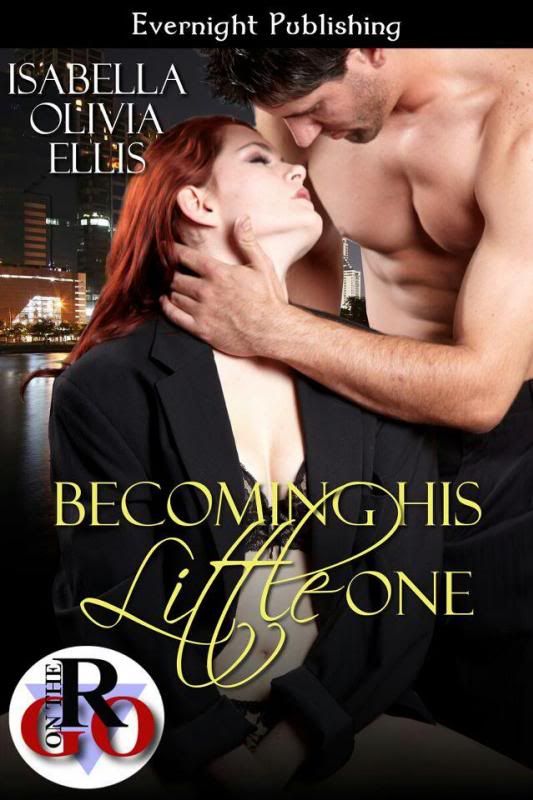 Carolyn is a plain divorcee living a plain life. Though her sexual experiences have all been vanilla, she is drawn to the submissive aspect of BDSM. In the multi-player online world of Other Existence, she finds an outlet for this. It is there that she meets Dave, an older Air Force lieutenant colonel, who turns out to be her dominant counterpart. After weeks of chats in which they share their deepest desires, the two meet in real life and a match made in BDSM heaven is born.

As their relationship develops, she discovers the tenderness and emotion that complements the lifestyle. There are whips and spreader bars, but also loving massages afterward. When Dave is suddenly torn away from her by his duty to his country, it is up to Carolyn to decide if the love they've found is worth the fight to keep it.
Excerpt-His bedroom was heavy on the manly accents. The walls were a hunter green with brown trim, and the furniture was made to look like hand-hewn wood. The bed was neatly made with a flannel set of sheets and matching comforter.

He brushed past her, saying, "Make yourself at home." Then he disappeared into what she guessed was the en-suite bathroom.

When he didn't close the door and instead hunched down to open the cabinet under the sink, Carolyn assumed he must be finding a condom for later. Part of her wanted to feel insulted that he had assumed they would have sex, but a larger part of her felt a thrill at his assertiveness.

He returned from the bathroom, tossed the condom onto the nightstand, and stood in front of her with his hands on hips. "Understand this, little one. When I snap my fingers, you suck my cock. When I clap my hands, you lick my balls. Got it?"

Carolyn nodded, aching to begin the tasks assigned to her, but Dave narrowed his eyes at her.

"You're already making mistakes. You're too smart for that, Carolyn. And I know this because I would never accept any less from someone I would have as my Little One. You answer any command I give you with 'yes sir'. Spoken or non-spoken." He growled.

"Yes, sir." She replied, not missing a beat.

He smiled coldly. "That's better." With deliberate, yet impatient moves, Dave unbuttoned the fly of his jeans and pushed them down his thighs. Then, he gave a sharp clap of his hands.

"Yes, sir." Carolyn lowered herself to her knees. Working the jeans down his thighs, she pushed them far enough down for him to step out and kick them to the side. His cock was clearly straining against his navy blue boxer briefs, and she leaned forward to kiss him through the fabric. She felt him pulsate through the cotton.

Dave let out a lustful hiss, but then pushed her away by her shoulders.

Confused, she looked up at him.

Smiling deviously, he said, "Wait here. Just like that. This fun can wait for another time. I have something else in mind, and I am too impatient after talking about it for so long."

And she did, kneeling with her palms resting on her knees.

After a few minutes, Dave reappeared with a thin steel rod with a cuff on each end.

Despite herself and the scenario, Carolyn gasped. "What is that thing?"

He knelt at her feet, pausing to adjust the length of the bar. "It's a spreader bar, Little One. You've never seen one?"

"I have never even heard of that."

"Well, we are certainly going to have some fun then, Little One. Turn around and face the bed. Spread your legs a little farther apart. That's good, now straighten your knee. Good." He wrapped a cuff around both of her ankles, then something clicked and Carolyn assumed the bar had locked into place.

Her legs were just slightly wider than what would normally be comfortable, but she didn't make a peep of complaint.

Dave left the room once more and returned with a pair of handcuffs and a black leather flogger. He tossed the latter to the floor, and then without gentleness, he jerked her arms behind her back and cuffed her wrists together.

There she was, vulnerable before him. She felt exposed being bent forward over the bed with her arms cuffed behind her. She had no way of supporting herself, so she let gravity take over and sank into the bed, her ass still up in the air and ready for the taking.

With a jerk, Dave pulled her dress up over her ass to rest bunched up around her waist. The air kissed her bare skin as he shifted behind her. "Mmm. No panties. You listen well, Little One," Dave whispered, his hands beginning to skim and stroke along her ass and thighs.

"Yes, Sir." She replied, trying not to push herself at him in impatience as his movements began to heighten her senses.

His hands left her for a moment, and she heard him pull his briefs off. This was confirmed when the head of his cock brushed against her as he reached down for the flogger. Then she heard him step backward.

The flogger snapped through the air as Dave brought it up and back and forth, over and over, each time getting closer and closer to where Carolyn's sensitive ass lay exposed.

Each crack caused her breath to heighten. She could scarcely even hear the sound of the flogger over the pounding of her heart.

"I am going to flog you, Little One. Flog that luscious, tasty ass of yours until it is inflamed and engorged, and then I am going to fuck it. What does my Little One think of that?"
Buy links-

Amazon: http://www.amazon.com/Becoming-His-Little-Romance-ebook/dp/B00BSK627Q/ref=sr_1_1?ie=UTF8&qid=1363098380&sr=8-1&keywords=becoming+his+little+one+ellis
Evernight: http://www.evernightpublishing.com/becoming-his-little-one-by-isabella-olivia-ellis/