Reality and perception aren't always what they seem.
Sometimes the greatest hope is found when two hearts find their truth and their home.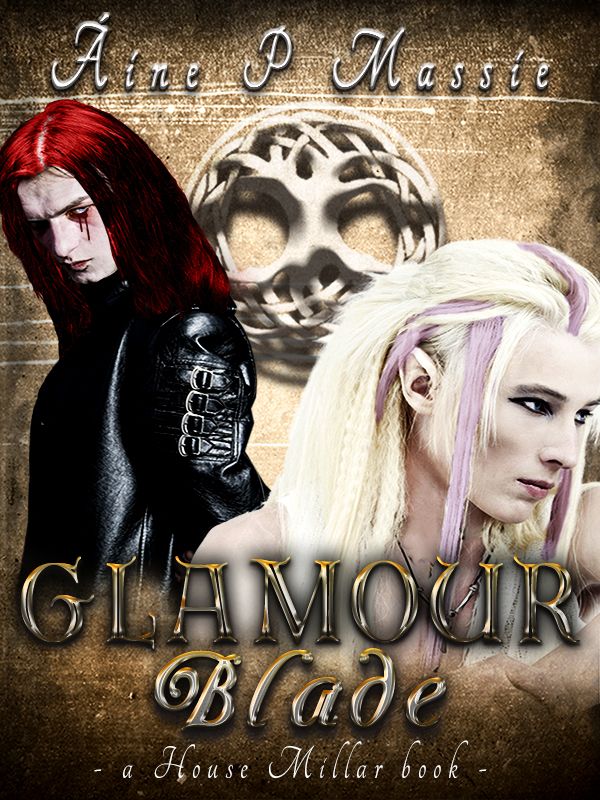 Title: Glamour Blade
Author: Áine P Massie
Series: House Millar, #3
Publisher: Encompass Ink, Teen
Genre: New Adult, Paranormal Romance
Release Date: August 18, 2015
Add to TBR List
Purchase: Amazon
When Rory Ó Cuinn, a Sidhe warrior, is sent by the Sidhe Queen's Council to reestablish the magically enhanced vampire hunters known as Guardians, he doesn't question his mission.

Lord Lorccán is a rare vampire noble, as he only kills humans who are far more monster than not. When he meets the enigmatic vampire Mistress Anya from the House Millar, he believes he's found an ally in creating a warrior class to police the vampires and protect the innocent—human and vampire alike.

The two goals bring Rory and Lor together, in more ways than one. But Sidhe nobles aren't meant to love the damned and Rory fights against a rising attraction for Lor, just as Lor pushes every one of Rory's buttons—mostly on purpose.

When they team up, using both their magics and knowledge, to save those that matter most and find possible future Guardians, their predesigned realities and perceptions change and twist. As love, hate, passion, and betrayal collide, the only question left is which emotions the pair will grasp and hold.

Excerpt
I gently squeezed the hand that still held mine. "Lorccán, could we adjourn to the study? I want to spend more time getting to know my charge and hopefully I can then figure out the strange reaction you both have had to the vampire girl."
"I already told you, Piscín, my home is yours. The study would be fine, as long as Dec doesn't mind."
"No, I'm game."
We stood and headed to the study where I had spent most of the day before.
"Oh, hey. You do realise that there's no one here to yell at us for acting up?" Declán suddenly chirped, grinning from ear to ear at Lorccán, as they proceeded me into the study.
The growl that suddenly burst from Lorccán was frightening. All at once he turned and pounced at Declán. Dec spun with amazing speed for a human and managed to use Lor's strength and weight against him. When they landed, Declán was on top, attempting to pin Lor's hands to the floor.
Before I thought about it, I had silver blades in hand and surged forward to protect Declán. Dec suddenly shifted from straddling Lorccán to crouching over him protectively, his own blades suddenly appearing in hand. "Stop! Put your blades down now, Rory! Don't make me have to fight you, please. I will if you push."
I stopped to process Declán's words against what I'd just witnessed. "But, he attacked you!" I countered. "Why are you protecting him?"
"He was not attacking me. Rory, he was reacting to what I'd said. Now, put your blades away. I don't wish to fight you, but I will not allow you to harm Lor."
Lorccán had gone still as only a vampire could, eyes wide with disbelief. "I would not attack Declán. You misunderstand. We were playing. We found out the first time we met that he without his blades, and me without my fangs and power, are actually pretty closely matched. Anya found it amusing, but his husband always becomes upset; convinced I'm either incapable of control or trying to seduce the lad. Nicholas is far too possessive and jealous for us to play or practise if he's nearby."
Looking back and forth between the two, Declán had not moved from his defencive stance over Lorccán yet, I tried again, "But the growl. The surprise attack. But—"
"Why would I defend him if he was attacking me?" Declán interrupted.
"I don't know, but as you serve vampires and a House, mate with vampires, even guard them at council meetings…how would I know why you would protect a creature that was attacking you?"
Lorccán's face crumpled at my words. He went from a look of disbelief to one of hurt in an instant, then turned away from me. Reaching up to shift himself from under Declán, he murmured barely above a whisper, "Creature? You truly believe I would try to kill Dec? I know you've only known me a couple of days but—" Shaking his head he stood with such swift motion, I froze.
"Declán, you are more than capable of educating your trainer in how things are for you. You do not actually need me here for this. I will speak with you later."
"Lor," Declán said as he grabbed Lorccán's arm. "He doesn't understand yet. He'll learn to see you like we do."
Lorccán gave a tight nod, then was gone.

Book 1: http://smarturl.it/amazon-BV
Book 2: http://smarturl.it/amazon-BM
Short story: Dinner for the Dead is part of the Hope & Love anthology: http://smarturl.it/HopeLove
Book 3: http://smarturl.it/GlamourBlade
About the Author
Áine P Massie is originally from Florida, she now lives in Wisconsin where she works on her House Millar series full time while raising four children (the term herding cats comes to mind). Her major in College was Childhood Education (specializing in ages zero to five) with a minor study in Deaf Culture/ASL. She is also a Wiccan priestess dedicated to the gods, family, and love.

Áine is a proud member of the Rom-Critters, the Romance Writers of America®, WisRWA, and Rainbow Romance Writers. Áine has always had a particular fascination with vampires, mythology, and the unusual. When she can escape from her children and books, she enjoys… oh yes, reading, playing, ritual, a good cappuccino, and working with her healing stones.

Her first published work came in high school where she was part of a writing and drama group. However, she has been reading the likes of Shakespeare and Poe since late elementary school and enjoys most forms of fiction.
Social Contact
Site – http://smarturl.it/apmassie
Blog – http://smarturl.it/housemillar
Author FB – http://smarturl.it/apm-fb
House Millar FB – http://smarturl.it/HM-fb
Twitter – http://smarturl.it/anya-twitter
Google + – http://smarturl.it/apm-g